Skip intro
Leadership
Team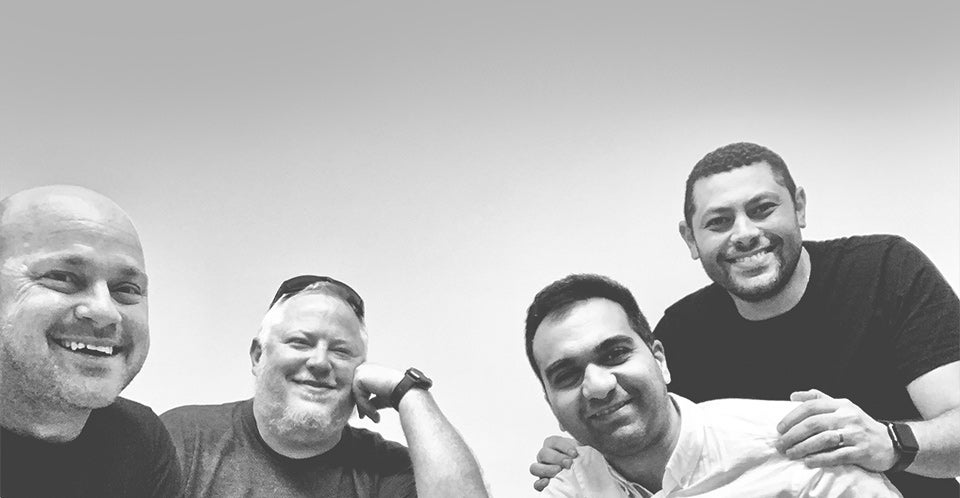 [object Object],[object Object],[object Object],[object Object]
Dillon Hicks
Managing Director
A born drummer (we mean leader). Dillon heads up operations at Sudo Roux backed by over 20 years' experience in design, project management, operations and content creation. And drumming.
He formerly led design and delivery teams at Foxtel, STW Group and WPP, covering technology, entertainment, telecommunications, liquor, automotive, and education. Dillon always had a great solo in him. Which meant the ambition was always there to do the do on his own two feet alongside like-minded people. Now Dillon does it for a new kind of company. We think you know the name.
Matt Sayer
Chief Technical Officer
Matt was doing clever internet stuff before the internet was even a thing. Heading up the Sudo Roux technology team, Matt has over 20 years' experience in the world of information technology, with the last 18 years spent with global agency networks in advertising and media. Matt's led technology teams on projects for global brands and a few homegrown names too, spanning local, state and federal government bodies, FMCG, superannuation and insurance, technology, aviation, wagering, retail and property. Yes, we're lucky to have him.
Breadth of experience, the hunger to shake up the industry, yet forever down-to-earth, Matt is a hugely capable technical resource and trusted advisor to both our team and our clients, working at the intersection of brand, marketing, technology and finance.
Aria Zanganeh
Technical Director
Hello my friend-o. That's Aria's catchphrase. But he's more than just a friendly guy. Aria's ability to identify problems and deliver game-changing solutions is amongst the best out there.
With over 15 years' experience and a truly customer-first approach, Aria was recognised as the first Episerver EMVP in the APAC region. His passion exists at the nexus of technology and society, harnessing the power of the former to deliver positive outcomes for local and global communities.
Aria's work spans education, cms, eCommerce, financial, consumer products, and manufacturing. And when it comes to technical prowess, where do we start?
Bishoy Hanna
Solution Architect
Bishoy has worked in software development for over 15 years, following a Bachelor's Degree in Engineering and Microsoft. He immerses himself in the development design and delivery process for enterprise applications, mobile applications, web services, Windows Services, intranet and internet solutions. That's his thing, and it's what he does best.
Whether it's healthcare, banking, automotive, entertainment, telecommunications, home appliances or sectors that haven't even been invented yet, Bishoy helps develop the right solution that ensures business resilience and scalability.
He's an expert at ASP.NET,MVC, C#, HTML, XML, AJAX, CMS, Azure, Amazon AWS, JSON JavaScript and jQuery. And he's skilled at making the complex, simpler.